WELCOME

to jclamb.com, a website where you can sample and purchase 'The Ugly Baby', a 390-page compendium of comic verse and other mainly humorous items by poet, actor and croquet-hoop designer Jonathan Lamb, illustrated by the author and designed for reading aloud. Some of the pieces, which are also available on CD and will be showcased in London's West End this summer, have appeared weekly in the Economist group newspaper European Voice; others in The Spectator, The New Statesman, The Bulletin and The Times. Their aim is to amuse, to provide actors and reciters with a quarry of original audition and party pieces, and to supply the texts of the CD readings by well-known voices like those you can hear by clicking above. Readers include Neil Kinnock, Edwina Currie, Chris Patten, Richard Eyre (Iris, Notes on a Scandal) and Luis Alberto Lacalle, ex-President of Uruguay. This site is dedicated to all who get fun out of the spoken word - especially to LAMDA, other schools who have used the books, and to drama students everywhere.


CHAMOIS

The chamois skips from peak to peak
So gracefully and so precisely
Wide-eyed, dainty, swift and sleek
And it cleans your windscreen nicely





'The Ugly Baby' and two CD's are in stock and available right now. The book is an omnibus edition of all nine volumes of Jonathan Lamb's verse published between 1990 and 2005. You can order and pay by credit card by clicking on the buttons below. If you have a query, if you're a non-UK customer or if you prefer not to sign up to PayPal (a free, secure payment system used by 100m people), just e-mail your order and delivery address to mail@jclamb.com. You'll get a swift reply from a real person.
The texts of all the pieces performed on the CD's can be found in The Ugly Baby.


TO ORDER:


BOOK The Ugly Baby, 390pp, illustrated by the author (£9.99 plus £1.98 p&p to UK):

CD Lamb Couplets, read by Prunella Scales, Robert Hardy, Timothy West et al - profits to Marie Curie Cancer Care (£9.99 plus 90p p&p to UK):



CD Song and Verse, read by the author, with the choir Sarum Voices (£9.99 plus 90p p&p to UK):

BOTH CD's, Lamb Couplets and Song & Verse (£19.98 plus 90p p&p to UK):

BOOK The Ugly Baby and CD Lamb Couplets (£19.98 plus £1.90 p&p to UK):
BOOK The Ugly Baby and CD Song and Verse (£19.98 plus £1.98 p&p to UK):

BOOK The Ugly Baby and both CD'S, Lamb Couplets and Song & Verse (£29.97 plus £3.99 p&p to UK):

Postage rates are for first class post to mainland UK only. If you would like delivery to an address outside the UK, contact mail@jclamb.com
CROQUET HOOPS

1) The Montevideo© hoop, for outdoor use
The Montevideo© hoop is available at £35 or 60 USD, plus P&P (costing on application, as it varies by weight and destination). Made of solid iron and designed for winter practice/friendly games on artificial surfaces, the Montevideo© turns almost any all-weather hockey or football pitch into several croquet courts. Practising on fast, flat surfaces over the winter improves your game no end. The upper crossbar is designed to prevent the feet from spreading and to allow the hoop to be held by an outplayer for hard shots; but the good news is that on the outdoor sanded carpet shown above, rover can be run with enough force for the ball to go out, from anywhere within two feet of the hoop and within an arc of about 60° in front of it, without the hoop needing to be held (as in the photo below: yellow started where blue is). This permits solo practice while encouraging precise approach skills. Montevideo© hoops are highly portable, can be installed in seconds and can be used on most all-weather surfaces without leaving a lasting mark. To order hoops, or to see and hear a QuickTime film of rover being run, send an e-mail to mail@jclamb.com.
2) The Mini-Monte©, for indoor and outdoor use: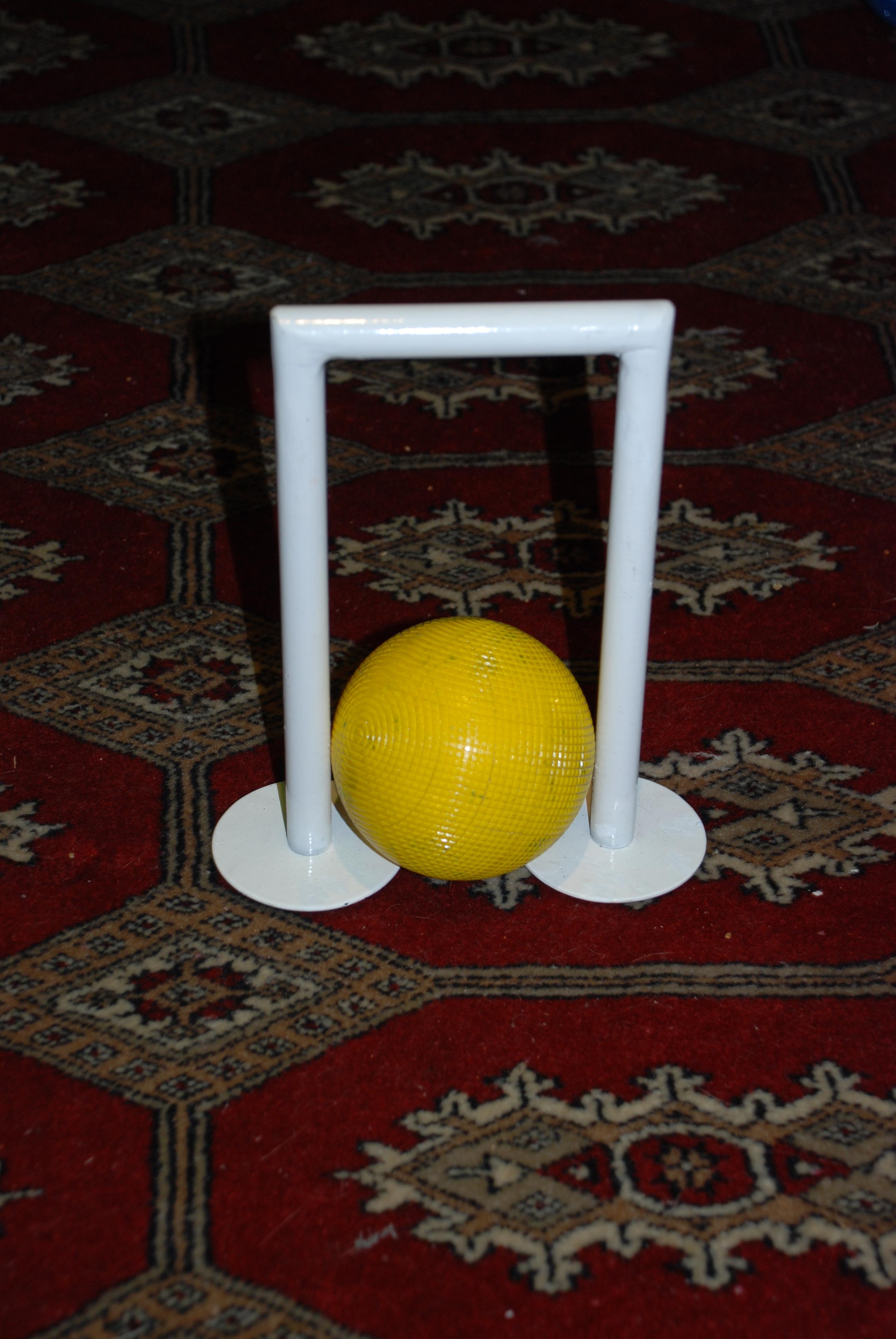 The Mini-Monte© is designed for practising hoop approaches
and hoop-running indoors. The pins are shorter than the outside version
but still grip the carpet well without damage. The hoop is solid iron, and can be
run gently from most angles without being knocked over.

Price: £19.99 plus p&p depending on number and total weight:
feel free to consult mail@jclamb.com.